The series of articles on Jettender design details by Agilis
Upholstery is not only a beautiful look of your jet boat, but also your personal comfort during the trip. Marine upholstery fabric covers all of the furniture on the boat, that´s why this material should be chosen very meticulously to protect the furniture and prolong its life.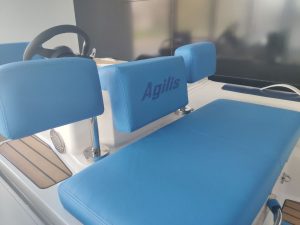 There are two different types of fabric: acryl and vinyl. The first upholstery material is made by applying an acrylic coating to a woven fabric. This material is soft and pleasant to the touch, hence, it creates a homey and laid back atmosphere. It has breathable property and good sun resistance. But on the other hand, cleaning requirements of acryl fabric make it less versatile and universal. This fabric is not scratch resistant, poorly washable and necessitous of constant care.
Vinyl fabric is made from PVC and polyester mesh. It is the sturdiest and the best material for aquatic vehicle. Thanks to its weatherproof and water-resistant properties against moisture, mold, and abrasion boat owners often choose vinyl fabric for upholstery.
For Agilis jet tender`s upholstery we choose vinyl fabric manufactured by Spradling®. Why them? As always, because they are tested, certified and proven by many years of successful work. Their upholstery has anti-stain treatment, impermeability, UV-resistance, Cold Crack and Mildew resistance, thus, it meets all requirements of the sector. Spradling® proposes innovations, leading-edge designs and current colors of Pantone.
Meanwhile, they run an environmentally responsible business. They make efforts to minimize their environmental footprint through sustainable product innovation. Consequently, Agilis can surely say that we propose only high quality, innovative and environmentally friendly materials for our tenders.